BUY BIG CHURCH FESTIVAL TICKETS
If you are not coming as part of a group of 10 or more people then buying your tickets as early as you can will get the biggest savings. The cheapest way to come to Big Church will always be in a large group, which gets cheaper as the group grows.
Coming to Big Church in a Group?
Then Group Plus is perfect for you! With the price dropping as your Group gets bigger, and all the hassle taken out of payments and chasing, it's the cheapest and easiest way to come!
Already Have a Group Leader?
If you have been invited to join a Group by a Group Leader, please follow the unique Group Plus link that you group leader has shared with you.
Your unique link will look something like this: bigchurch.group/2023/xxxxx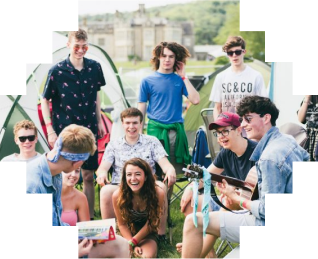 To enjoy the best and full experience of Big Church we recommend you come and camp for the duration, and if you haven't camped before, Big Church is a great way to begin. You can bring your own tent or take things easy with our Glamping and Rent-a-Tent options.
Note: Camping + more tickets can only be purchased after having bought a ticket to the festival.